Dussehra Shayari 2021 and Wishes | Vijaydashmi hindi shayari
happy dussehra shayari
tyaag dee sab khvaahish,
kuchh alag karane ke lie,
raam ne khoya bahut kuchh,
shreeraam banane ke lie.
त्याग दी सब ख्वाहिश,
कुछ अलग करने के लिए,
राम ने खोया बहुत कुछ,
श्रीराम बनने के लिए।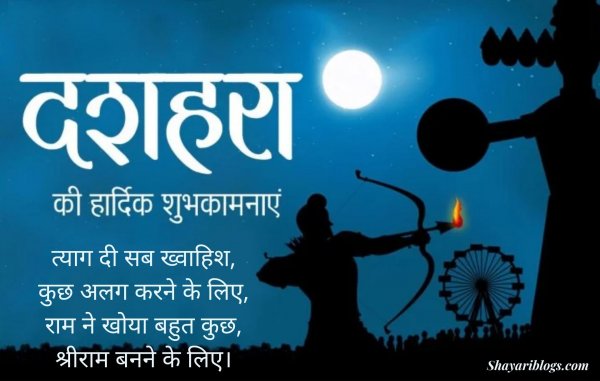 ---
nirbal ke bal raam hain,
nirdhan ke dhan raam,
raavan vah jo kisee ke,
aaya kabhee na kaam.
निर्बल के बल राम हैं,
निर्धन के धन राम,
रावण वह जो किसी के,
आया कभी न काम
dussehra quotes hindi
dahan putalon ka hee nahin,
bure vichaaron ka bhee karana hoga,
shreeraam ka karake smaran,
har raavan se ladana hoga.
दहन पुतलों का ही नहीं,
बुरे विचारों का भी करना होगा,
श्रीराम का करके स्मरण,
हर रावण से लड़ना होगा।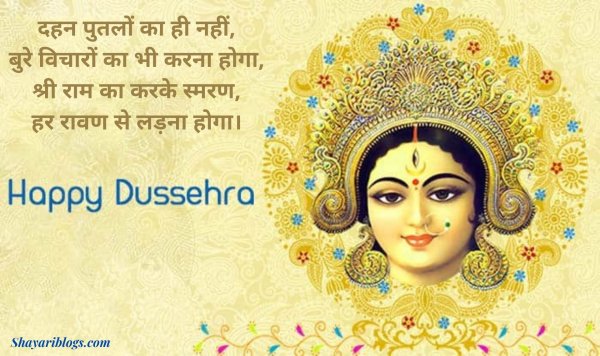 ---
man ko banaaye rakho raam,
kabhee nahin jeetega koee raavan,
achchhaee ko hamesha phailaate raho,
jeet jaoge har ran.
मन को बनाये रखो राम,
कभी नहीं जीतेगा कोई रावण,
अच्छाई को हमेशा फैलाते रहो,
जीत जाओगे हर रण।
dashahara ek ummeed jagaata hai,
buraee ke ant kee yaad dilaata hai,
jo chalata hai saty kee raah par,
vo vijay ka prateek ban jaata hain.
दशहरा एक उम्मीद जगाता है,
बुराई के अंत की याद दिलाता है,
जो चलता है सत्य की राह पर,
वो विजय का प्रतीक बन जाता हैं।
---
achchhaee kee jeet huee thee raam jee ne,
kiya tha aaj buraee ka ant,
vaise hee aap bhee apane andar ke raavan,
ko mita ke karo aaj apanee buraee ka ant.
अच्छाई की जीत हुई थी राम जी ने,
किया था आज बुराई का अंत,
वैसे ही आप भी अपने अन्दर के रावण,
को मिटा के करो आज अपनी बुराई का अंत।
happy dasara shayari image
raam kee mahima aur haar asaty kee,
bura ant buraee ka, jeet saty kee,
dashahare ke is sandesh ko apana len,
door ho jaayegee sab chinta vyarth kee.
राम की महिमा और हार असत्य की,
बुरा अंत बुराई का, जीत सत्य की,
दशहरे के इस संदेश को अपना लें,
दूर हो जायेगी सब चिंता व्यर्थ की।
---
buraee ko khatm karate hue achchhaee ka mantr,
jyot se jyot jalaate chalo,
prem kee ganga bahaate chalo,
raah mein aaye jo deen dukhee,
sabako gale lagaate chalo.
बुराई को खत्म करते हुए अच्छाई का मंत्र,
ज्योत से ज्योत जलाते चलो,
प्रेम की गंगा बहाते चलो,
राह में आये जो दीन दुखी,
सबको गले लगाते चलो।
ho aapakee laiph me khushiyonka mela,
kabhee na aae koee jhamela,
sada sukhee rahe aapaka basera,
Happy Dussehra
हो आपकी लाइफ मे खुशियोंका मेला,
कभी ना आए कोई झमेला,
सदा सुखी रहे आपका बसेरा,
हैप्पी दशहरा।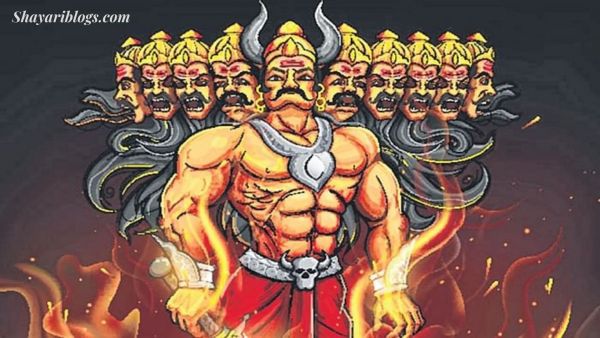 ---
happy dussehra 2 line shayari
dashahara ka matalab hai sada saty kee jeet,
gadh tootega jhooth ka, hogee saty se preet
दशहरा का मतलब है सदा सत्य की जीत,
गढ़ टूटेगा झूठ का, होगी सत्य से प्रीत।
adharm par dharm kee vijay ke prateek,
paavan parv dashahare kee haardik
shubhakaamanae.
अधर्म पर धर्म की विजय के प्रतीक,
पावन पर्व दशहरे की हार्दिक शुभकामनाए।
---
hrday se raavan jaisee buraee ka naash ho,
aur prabhu shreeraam ka vahaan par vaas ho.
हृदय से रावण जैसी बुराई का नाश हो,
और प्रभु श्रीराम का वहाँ पर वास हो।
---
Je thi kuchhe Dussehra shayari and wishes hamen asha hai ki aap ko yah shayari jarur pasand ayi hogi.
Agar aapko je shayari acchi lagi to aap hamen comment box mein jarur bataen.
Aur in shayariyan ko apne parivar doston ke sath bhi jarur share karen.
Pages: 1 2