Sorry shayari The best 20+ sorry status in hindi | Top i am sorry Shayari
Aaj Ham apni post mein Sorry shayari ki kuchh bahut hi khas chuni Hui shayari lekar aaye Hain
Jisse aap apne partner ko sorry bol kar Mana sakte hain,, dekho bhai Jahan Pyar hota hai Na to vahan ladai to jarur hoti hai..
Kyunki aap kisi ko Pyar karte Ho To usko alag nahin samajhte hain, use apna hi samajh jaate Hain..
To fir aap apnon se hi to ladai karte hain na, jinhen aap jante Tak nahin Ho unse aap kaise lad sakte hain..
FIR vahi baat Ho jaati hai, Wo aapse baat nahin karte aur aap unse baat nahin karte..
Aur fir dekhte hi dekhte ek din Ho jata hai do din ho jaate Hain
Aur FIR agar aapane unhen jald hi sorry nahin bola to aapke bich mein aur bhi jyada duriyan a sakti hai…
Isliye Ham ji shayari lekar aaye hain je sorry hindi shayari aap jis kisi ko bhi send kar denge to vah usi pal man jaega best 20 + sorry status and quarters.
Sorry shayari
Tum Hanste Ho Mujhe Hansane Ke Liye,
Tum Rote Ho To Mujhe Rulane Ke Liye,
tm Ek Baar Rooth Kar To Dekho,
Mar Jaayenge Tumhen Manane Ke Liye.
Is kadar hamase rooth na jaiye,
maana galatee huee hain hamase,
par aise khaamosh na ho jaiye,
jo doge saja hogee kabool hamen,
bas ek baar muskura jaiye.
Shayari on sorry
kahate hai kee rishte mein,
sorry " aur " thanks nahin hone chaahie,
lekin hakeekat me, yahee do laphj,
rishton ko bachaate hai..
jindagi mein kuchh rishte,
aise bhee todane pade,
galatee kisee aur ne kee,
haath hame jodane pade.
Sorry shayari
bhool se koee bhool huee,
to bhool samajh kar bhool jaana !
are bhoolana sirph bhool ko,
bhool se hame na bhool jaana.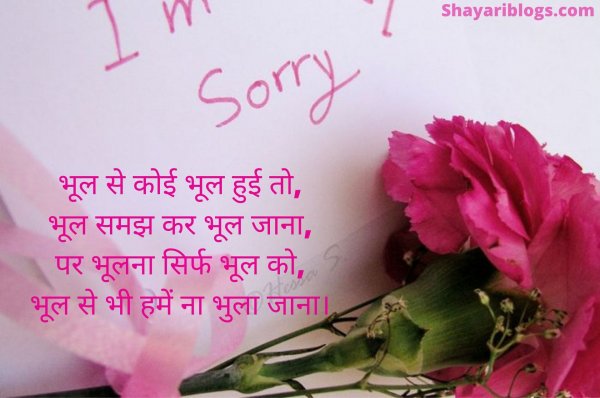 lagata hai hamane aapaka dil dukha diya,
na chaahate hue bhee aapako rula diya.
Rishta nibhaane mein thodee – see kar dee begauree,
ho sake to maaf karana dil se sorry.
sorry status
hamen dekh kar jab usane,
munh mod liya, ek tasallee ho gayee,
chalo pahachaanate to hain.
tumhen pasand thee na " shaayariyaan meree..
suno ab laut aao .
kuchh likha hai tumhaare liye.
I am sorry
Sorry shayari
gunaah bhee maanenge,
maaphee bhee maangenge,
too dene ka dil to rakhatee,
kasam khuda kee tujhako baar baar maangenge.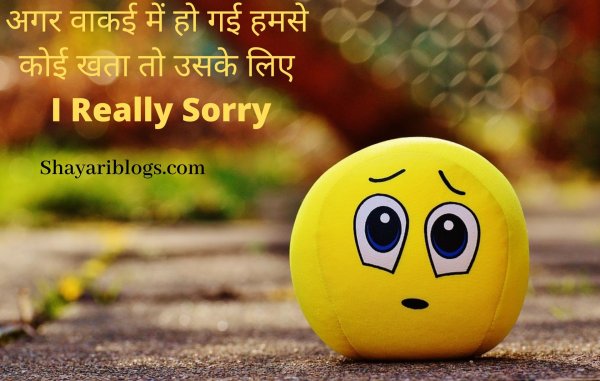 Aap Ke Liye Jeete Aur Aap Pe Hee Marte Hain,
Aap Hi Ho Wo Tohfa Jise Beintaha Pyar Karte Hain,
Agar Ho Gai Galti Mujhse To Maaf Kardo Mujhe,
Kyunki Hum Galtiyaan Jaanboojh Kar Nahi Karte Hain.
Best sorry Quotes in hindi
tum khapha ho gae to koee khushee na rahegee,
tumhaare bina chiraagon mein roshanee na rahegee,
kya kahe kya gujaregee is dil par,
jinda to rahenge par zindagee na rahegee.
vah gusse mein dur se Hi nihara karte Hain,
jaane kyon itne khafa lagte Hain.
Koi khata Hui humse to bakchh dijiye,
Ham to har waqt aap Hi ko yad Kiya karte Hain.
mafi shayari in hindi for girlfriend
Sorry Kehne Ka Matlab Hai.
Ki Aapke Liye Dil Me Pyar Hai.
Ab Jaldi Se Hume Maaf Kar Do Ai Sanam,
Suna Hai Aap Bahut Samajhdaar Hain.
sorry my love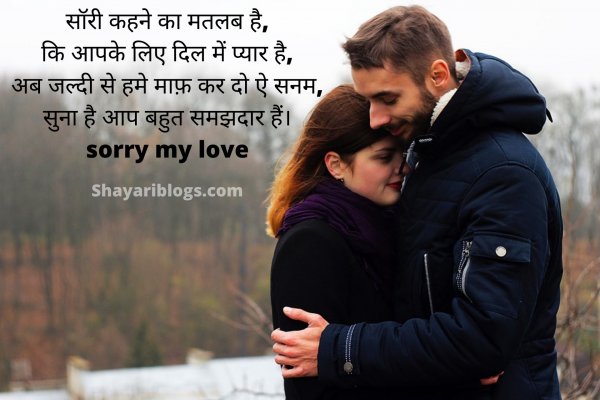 galatee itanee bhee badee nahin kee,
hamane jo naaraaz ho jao umrabhar ke lie,
maana ki ham tere koee nahin par too meree,
sab kuchh ye bhee to kisee se chhupa nahi pleez maan jao..
sorry msg in hindi
maamphee maangane se yah saabit nahin hota,
ki ham galat hai aur doosara sahee,
maamphee ka asalee arth hai ham rishton ko,
nibhaane kee kaabeeliyat usase jyaada rakhate hain.
dil se teree yaad ko juda to nahin kiya,
rakha jo tujhe yaad kuchh bura to nahin kiya,
ham se too naaraaz hain kis liye bata jara,
hamane kabhee tujhe khapha to nahin kiya.
Sorry shayari
wo mera dost jo khuda jaisa lagata hai,
dil ke paas hai par phir bhee judaasa kyoon lagata hai,
kaaphee dino se aaya nahin koee paigaam usaka,
shaayad koee baat pe hamase khapha sa lagata hai .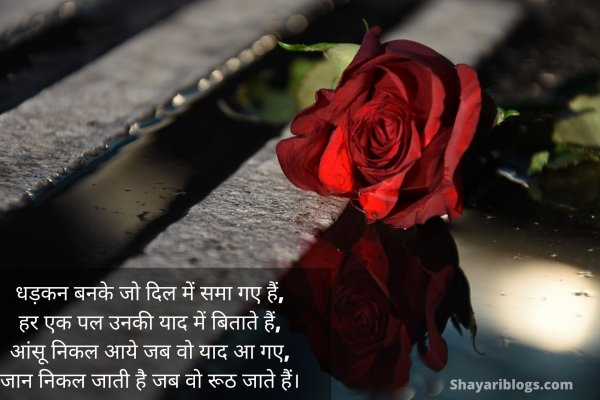 pal bhar mein toot jae vo kasam,
nahin tumhe bhool jaen vo ham nahin,
tum roothee raho ham se is baat mein dam nahin,
soree bolane se tum na maano itana pyaar kam nahin hai.
sorry 2 line shayari
Jab meri wajah se koi hurt hota hai na,
Toh kuch der baad unse zyada bura mujhe lagta hai..
dekhee hai beruravee kee aaj ham ne intehaan,
hama pe najar padee to vo mahaaphal se uth gae,
Sorry shayari
jhagada tabhee hota hain jab dard hota hai,
aur dard tab hota hain jab pyaar hota hai.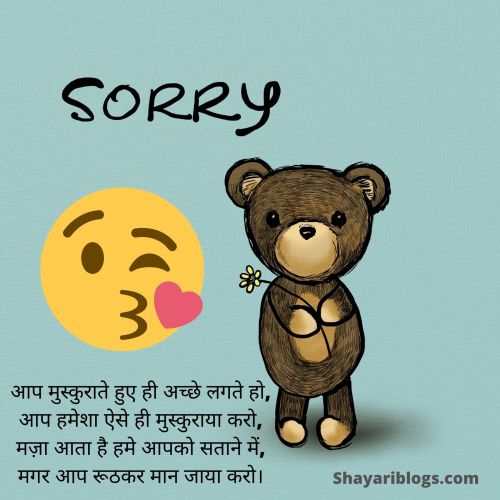 Koi Saza Sunani Hai To Suna Sakte Ho,
Gustakh Nigaho Ne Aaj Fir Tera Khwab Dekha.
Mana kabhi-kabhi takraar karte hai,
par Ham khud se jyada aapko Pyar karte hai.
jo pahale kshama maangata hai
vah sabase bahaadur hai.
Ab jaldi se je Sorry shayari une send kar dijiye Jo aapse naraj hue baithe Hain, Aur unhen jald se jald manaa lijiye kahin der na ho jaaye..
Hamen ummid hai ki aap ko hamari sorry shayari in hindi jarur pasand aayi hogi, agar aapko ye shayari pasand hai to comment box mein hamen jarur bataen.
Aur hamari isi prakar ki nai nai shayari padhne ke liye hamari website ke sath lagatar bane rahiye, Thanks you.
Sorry Video with sorry song