Womens day shayari 2021 | कुछ लफ्ज़ माँ बहन बेटी के नाम।
Hello doston aap sabhi ka swagat hai, Har sal 8 March ko puri duniya mein international Womens day manaya jata hai aur isi mauke per ham aapke liye Womens Day Shayari 2021 lae hain.
Aaj ka din puri tarah se mahilaon ke liye samarpit hota hai, Aaj hamare ghar mein ( Maa bahan beti aur patni ) ke Samman ka din hai.
Happy Womens Day Shayari
To womens ke Samman mein ham kuchh Alfaaz aapke samne rakhne ja rahe hain, jinko aap sabhi ke sath Sajha bhi kar sakte hain,
Aur Womens ke Samman mein swayam Pradhanmantri Modi ji bhi apne social media accounts Womens ko samarpit karenge.
Aaj ka din sabhi ke liye bahut hi khaas hota hai humne aapke liye bahut hi acchi acchi women's Day shayari rakhi hai.
Jinhen aap sabhi ke sath share kar sakte hain aur aaj ke din wish kar sakte hain, chaliye to padhte hain yah Womens day shayari in hindi.
Womens Day Shayari 2021
too betee hai to rahamat hai,
too bahana hai to shaphakat hai,
too beevee hai to chaahat,
too maan hain to phir jannat hain.
तू बेटी है तो रहमत है,
तू बहना है तो शफकत है,
तू बीवी है तो चाहत,
तू माँ हैं तो फिर जन्नत हैं।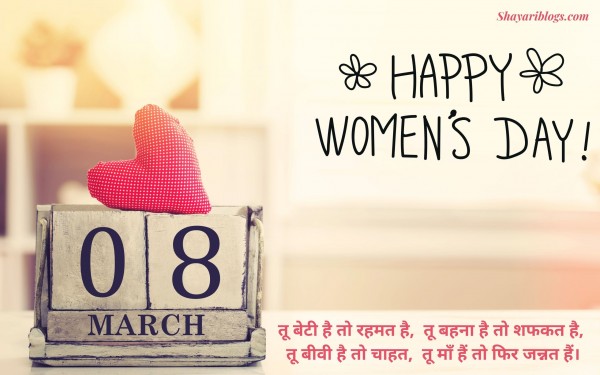 ---
aanchal mein mamata lie hue,
nainon se aansu pie hue,
saump de jo poora jeevan,
phir kyon aahat ho usaka man.
आंचल में ममता लिए हुए,
नैनों से आंसु पिए हुए,
सौंप दे जो पूरा जीवन,
फिर क्यों आहत हो उसका मन।
betee, behen, bahu, maa, banakar,
durlabh kathanaee sahatee hai,
apanee khushiya ko bhool kar,
kismat se ladatee rahatee hai.
बेटी, बेहेन, बहु, माँ बनकर,
दुर्लभ कठनाई सहती है,
अपनी खुशिया को भूल कर,
किस्मत से लड़ती रहती है।
---
women's day 2021 shayari hindi
naaree se hee nar hai,
varana sabakuchh beghar hai,
makaan banaata ghar usase,
varana ye bhee jharjhar hai.
नारी से ही नर है,
वरना सबकुछ बेघर है,
मकान बनाता घर उससे,
वरना ये भी झर्झर है।
muskuraakar , dard bhulaakar,
rishton mein band thee duniya saaree,
har pal ko roshan karane vaalee,
vo shakti hai ek naaree.
मुस्कुराकर , दर्द भुलाकर,
रिश्तों में बंद थी दुनिया सारी,
हर पल को रोशन करने वाली,
वो शक्ति है एक नारी।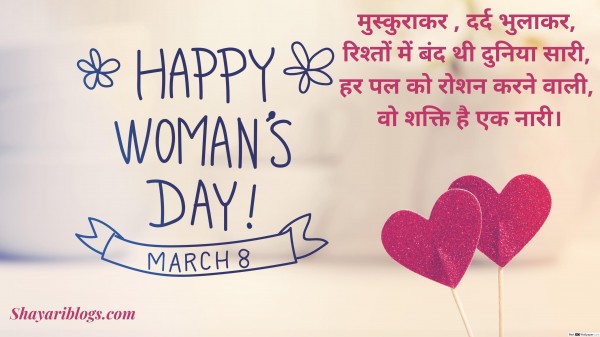 ---
dil kee dhadakan ko kaun samajhega,
meree ulajhan ko kaun samajhega,
ek betee nahin agar ghar mein,
ghar ke aangan ko kaun samajhega.
दिल की धड़कन को कौन समझेगा,
मेरी उलझन को कौन समझेगा,
एक बेटी नहीं अगर घर में,
घर के आंगन को कौन समझेगा।
new women's day shayari
hai naaree durga mahaakaalee,
lakshmee , sarasvatee kahalaatee hai,
isaan ko janm dene vaalee,
Wo naaree kahalaatee hai.
है नारी दुर्गा महाकाली,
लक्ष्मी, सरस्वती कहलाती है,
इसान को जन्म देने वाली,
वो नारी कहलाती है।
---
naaree tum keval shraddha ho,
vishvaas rajatanag pag tal mein,
peeyoosh srot see baha karo,
jeevan ke sundar samatal mein.
नारी तुम केवल श्रद्धा हो,
विश्वास रजतनग पग तल में,
पीयूष स्रोत सी बहा करो,
जीवन के सुन्दर समतल में।
ghar ko svarg banaatee naaree,
ghar kee ijjat hotee naaree,
dev bhee pooja karate jisakee,
aisee pyaaree moorat hai naaree.
घर को स्वर्ग बनाती नारी,
घर की इज्जत होती नारी,
देव भी पूजा करते जिसकी,
ऐसी प्यारी मूरत है नारी।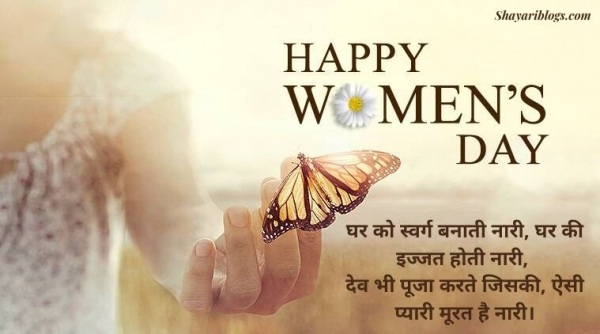 ---
women's day special shayari
naaree ek maan hai usakee pooja karo,
naaree ek betee hai usaka sneh karo,
naaree ek patnee hai usako prem karo,
naaree ek bahan hai usaka sanmaan karo.
नारी एक माँ है उसकी पूजा करो,
नारी एक बेटी है उसका स्नेह करो,
नारी एक पत्नी है उसको प्रेम करो,
नारी एक बहन है उसका सन्मान करो।
aurat hai to duniya hai,
jeevan hai, khushiya hai,
na karo apamaan kisee naaree ka,
naaree patnee hai , behen maan bhee hai.
औरत है तो दुनिया है,
जीवन है खुशिया है,
न करो अपमान किसी नारी का,
नारी पत्नी है , बेहेन माँ भी है।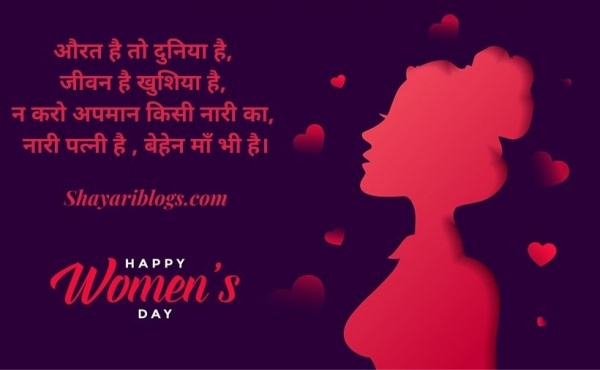 ---
paapa kee pyaaree laadalee ma kee hai vah jaan,
sab ke dil ko bhaatee hai,
usakee pyaaree muskaan,
parivaar kee vah shaan, yah hai naaree kee pahachaan.
पापा की प्यारी लाडली माँ की है वह जान,
सब के दिल को भाती है,
उसकी प्यारी मुस्कान,
परिवार की वह शान, यह है नारी की पहचान।
shayari on womens day,
naaree shakti hai, sammaan hai,
naaree gaurav hai, abhimaan hai,
naaree ne hee ye racha vidhaan hai,
hamaara shat – shat pranaam hai.
नारी शक्ति है, सम्मान है,
नारी गौरव है, अभिमान है,
नारी ने ही ये रचा विधान है,
हमारा शत – शत प्रणाम है।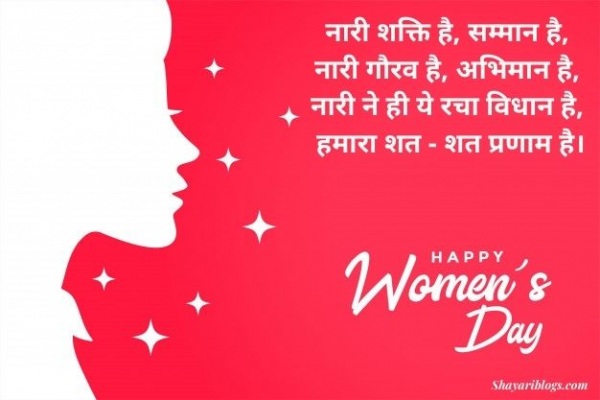 ---
din kee roshanee khvaabon ko banaane me gujar gaee,
raat kee neend bachche ko sulaane me gujar gaee,
jis ghar me mere naam kee takhtee bhee nahin,
saaree umar us ghar ko sajaane mein gujar gaee.
दिन की रोशनी ख्वाबों को बनाने मे गुजर गई,
रात की नींद बच्चे को सुलाने मे गुजर गई,
जिस घर मे मेरे नाम की तख्ती भी नहीं,
सारी उमर उस घर को सजाने में गुजर गई।
aap eeshvar kee ek anoothee rachana hain,
aapake bina hamaara vajood nahin hota,
aapaka dhanyavaad.
आप ईश्वर की एक अनूठी रचना हैं,
आपके बिना हमारा वजूद नहीं होता,
आपका धन्यवाद।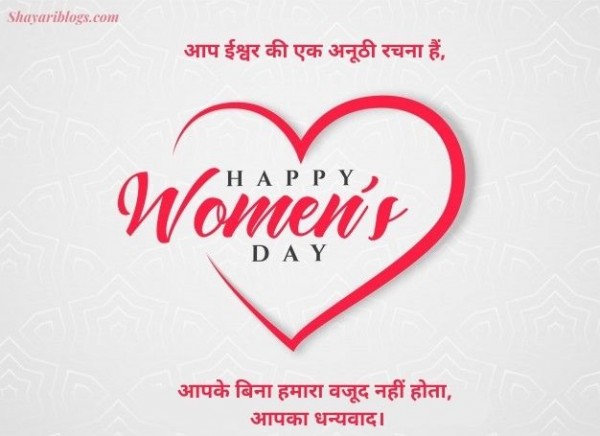 ---
betee hoon main betee rahana chaahatee hoon,
mat maaro mujhe garbh,
mein main bhee jeena chaahatee hoon.
बेटी हूं मैं बेटी रहना चाहती हूं,
मत मारो मुझे गर्भ में,
मैं भी जीना चाहती हूं।
womens day 2 line shayri
ek nahin do – do maatraen,
nar se bhaaree naaree.
एक नहीं दो – दो मात्राएं,
नर से भारी नारी।
---
abhee raushan hua jaata hai raasta,
vo dekho ek aurat aa rahee hai.
अभी रौशन हुआ जाता है रास्ता,
वो देखो एक औरत आ रही है।
naaree sammaan hain, svarg ka dvaar,
usaka apamaan hain, narak samaan.
नारी सम्मान हैं, स्वर्ग का द्वार,
उसका अपमान हैं, नरक समान।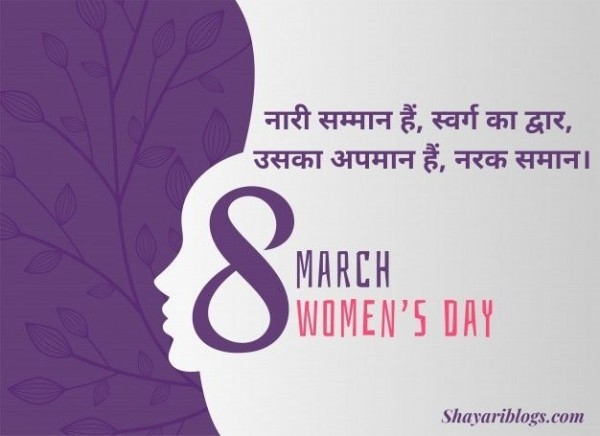 ---
shayari for women's day
ghar mein rahate hue gairon kee tarah hotee hain,
ladakiyaan dhaan ke paudhon kee tarah hotee hai.
घर में रहते हुए, गैरों की तरह होती हैं,
लड़कियाँ धान के पौधों, की तरह होती है।
sabake jeevan ka aadhaar mahila hai,
sabase beshakeematee eeshvareey upahaar.
सबके जीवन का आधार महिला है,
सबसे बेशकीमती ईश्वरीय उपहार।
---
kahalaayee vah stree, kahalaayee vah ek naaree,
banakar ek aadarsh usane kiya jag ko ujiyaara.
कहलायी वह स्त्री, कहलायी वह एक नारी,
बनकर एक आदर्श उसने किया जग को उजियारा।
two line women's day shayari
kuchh maanga nahin, kuchh chaaha nahin,
badala bas khud ko, ki rishta toot na jae kaheen.
कुछ मांगा नहीं, कुछ चाहा नहीं,
बदला बस खुद को, कि रिश्ता टूट ना जाए कहीं।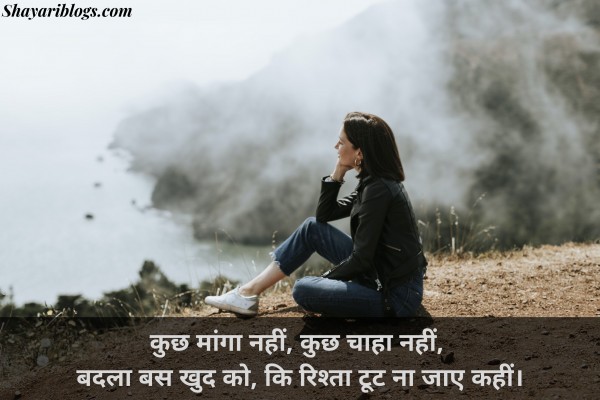 rachana kya karoon usakee do chaar shabdon mein,
vo to khud hee rachanaakaar hai sansaar kee.
रचना क्या करूँ उसकी दो चार शब्दों में,
वो तो खुद ही रचनाकार है संसार की।
---
Humne aapke liye kuchh Women's Day video bhi add ki hai jinhen aap free mein download karke apne WhatsApp status par bhi laga sakte hain.


---
To doston kaisi lagi aapko jaaye hamari Happy Womens Day Shayari hamen puri ummid hai ki aapko hamari ye shayari on womens day pasand aayi hogi.
Agar aapko hamari yah womens day hindi shayari pasand aayee hain to hamen comment box mein jarur bataen aur in shayariyon ko apne sabhi tak jarur share karen.