Christmas Day shayari 2022, Best Collection Of Merry Christmas Wishes
Hello doston aap sabhi ko Happy Christmas day ham aapke samne pesh kar rahe hain hamara best Merry Christmas Day shayari collection hamare is shayari collection se aap sabhi ko wish kar sakte hain.
Christmas day festival pure world mein khushi ke sath manaya jata hai ya tyohar Bhagwan yishu ke janm ki khushi mein manaya jata hai.
Happy Christmas Day shayari 2022
Yah festival 25 December ko pure world mein manaya jata hai and as din pure world ki chhutti rahti hai aur yahi baten is festival ko aur bhi khas banaa deti hai.
And jaisa ki ham sabhi jante hain ki ham ab sal ki last mein a gaye hain aur yah sala 2022 sabhi ke liye itna achcha nahin raha hai.
Isliye ab aap apni purani yaadon ko bhul kar festival ki masti mein Christmas se lekar New year tak khushi mein jhoom jaaiye.
Chaliye to ham padhte hain hamara best collection merry christmas day shayari in hindi yah wishes aap sabhi ke sath share kar sakte hain.
Christmas Day shayari
क्रिसमस की खुशियां कुछ यूं भी मनाना,
किसी गरीब के लिए कुछ गिफ्ट जरूर दे जाना।
ham aapake dil mein rahate hain,
saare dard aapake sahate hain,
koee ham se pahale vish na kara de,
aapako is lie sabase pahale,
Happy Christmas Day kahate hain.
हम आपके दिल में रहते हैं,
सारे दर्द आपके सहते हैं,
कोई हम से पहले विश ना कर दे,
आपको इस लिए सबसे पहले
Happy Christmas Day कहते हैं।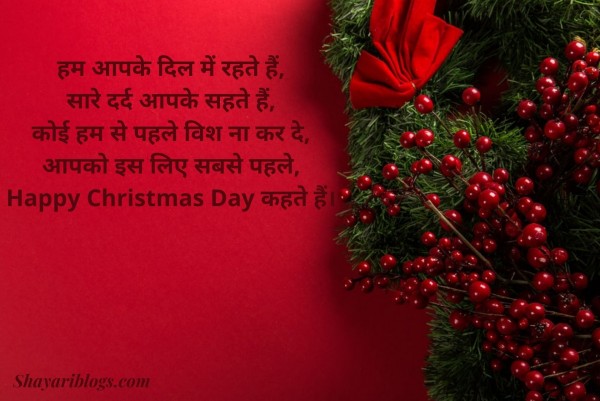 ---
is krisamas aapaka jeevan,
krisamas tree kee tarah,
hara-bhara aur bhavishy taaron,
kee tarah chamakata rahe.
इस क्रिसमस आपका जीवन,
क्रिसमस ट्री की तरह,
हरा-भरा और भविष्य तारों,
की तरह चमकता रहे।
khul jae aapakee kismat ka taala,
hamesha tum par meharabaan rahe upar vaala,
bas itanee see dua karata hai,
aapaka ye chaahane vaala.
खुल जाए आपकी किस्मत का ताला,
हमेशा तुम पर मेहरबान रहे ऊपर वाला,
बस इतनी सी दुआ करता है,
आपका ये चाहने वाला।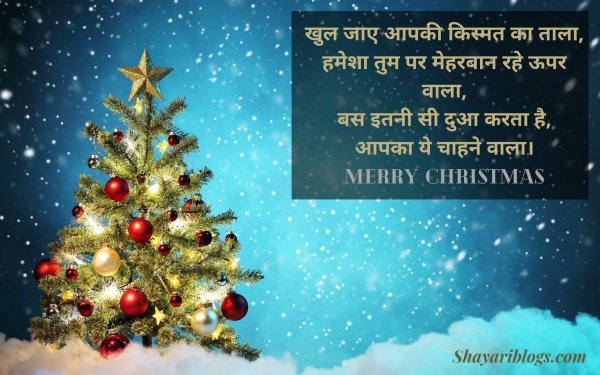 ---
Merry Christmas day shayari
chaand ne apanee chaandanee bikheree hai,
aur taaron ne aasmaan ko sajaaya hai,
lekar taupha aman aur pyaar ka,
dekho svarg se koee pharishta aaya hain.
चाँद ने अपनी चांदनी बिखेरी है,
और तारों ने आस्मां को सजाया है,
लेकर तौफा अमन और प्यार का,
देखो स्वर्ग से कोई फरिश्ता आया हैं।
khuda se kya maangoo tumhaare vaaste,
sada khusheeyaan ho tumhaare raaste,
hansee tumhaare chehare par rahe is tarah,
khushv phal ka saath nibhae jis tarah.
खुदा से क्या मांगू तुम्हारे वास्ते,
सदा खुशीयां हो तुम्हारे रास्ते,
हंसी तुम्हारे चेहरे पर रहे इस तरह,
खुशबू फल का साथ निभाए जिस तरह।
---
bachchon ka din tauphon ka din,
saanta aaega kuchh tumhe dekar jaayega,
bhool na jaana use shukriya kahana,
aap sabhee ko krisamas kee shubhakaamana.
बच्चों का दिन तौफों का दिन,
सांता आएगा कुछ तुम्हे देकर जायेगा,
भूल ना जाना उसे शुक्रिया कहना,
आप सभी को क्रिसमस की शुभकामना।
Christmas day shayari in hindi
muskuraate hansate krisamas tree tum sajaana,
jeevan mein nayee khushiyon ko laana,
duhkh dard apane bhool kar,
sabako gale lagana aur pyaar se krisamas maanana.
मुस्कुराते हँसते क्रिसमस ट्री तुम सजाना,
जीवन में नयी खुशियों को लाना,
दुःख दर्द अपने भूल कर,
सबको गले लगना और प्यार से क्रिसमस मानना।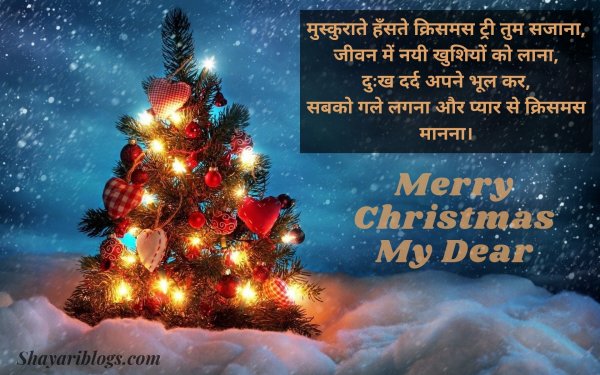 ---
krisamas ka ye pyaara sa tyauhaar,
jeevan mein laaye khushiyaan apaar,
santa kloj aayee aapake dvaar,
shubhakaamanaaye hamaaree kare sveekaar.
क्रिसमस का ये प्यारा सा त्यौहार,
जीवन में लाये खुशियां अपार,
संता क्लॉज आयी आपके द्वार,
शुभकामनाये हमारी करे स्वीकार।
lo aa gaya jisaka tha intazaar,
sab mil kar bolo mere yaar,
December mein laaya krisamas bahaar,
mubaarak ho tumako krisamas mere yaar.
लो आ गया जिसका था इंतज़ार,
सब मिल कर बोलो मेरे यार,
दिसम्बर में लाया क्रिसमस बहार,
मुबारक हो तुमको क्रिसमस मेरे यार।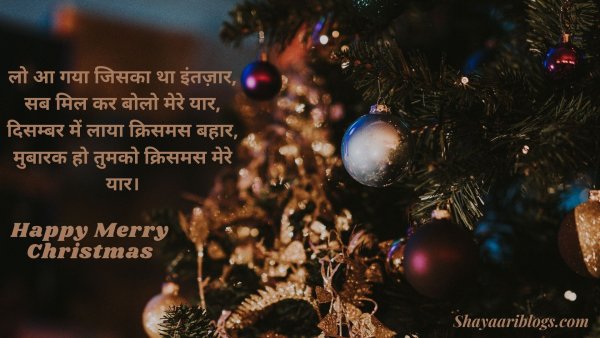 ---
Latest Christmas Sms Wishes In Hindi
jahaan saara muskuraaya,
phir se kisamas aaya,
dil ko dil se milaane,
dher saaree khushiyaan laaya.
जहां सारा मुस्कुराया,
फिर से किसमस आया,
दिल को दिल से मिलाने,
ढेर सारी खुशियां लाया।
na koee khat bhej raha hoon na,
koee phool bhej raha hoon,
sachche dil se main aapako,
Christmas day kee shubhakaamanaen bhej raha hoon.
ना कोई खत भेज रहा हूं,
ना कोई फूल भेज रहा हूं,
सच्चे दिल से मैं आपको,
क्रिसमस डे की शुभकामनाएं भेज रहा हूं।
---
thandee ka mausam hai,
krisamas kee taiyaaree hai,
raushan hain sab imaaraten aise,
jaise jannat hee jameen par padhaaree hai.
ठंडी का मौसम है,
क्रिसमस की तैयारी है,
रौशन हैं सब इमारतें ऐसे,
जैसे जन्नत ही जमीन पर पधारी है।
Happy Christmas day shayari
rab aisa krisamas baar – baar laaye,
krisamas paartee mein chaar chaand lag jaaye,
senta kloz se har din milavaayen,
aur har din aap nae – nae tauhaphe paayen.
रब ऐसा क्रिसमस बार – बार लाये,
क्रिसमस पार्टी में चार चांद लग जाये,
सेंटा क्लॉज़ से हर दिन मिलवायें,
और हर दिन आप नए – नए तौहफे पायें !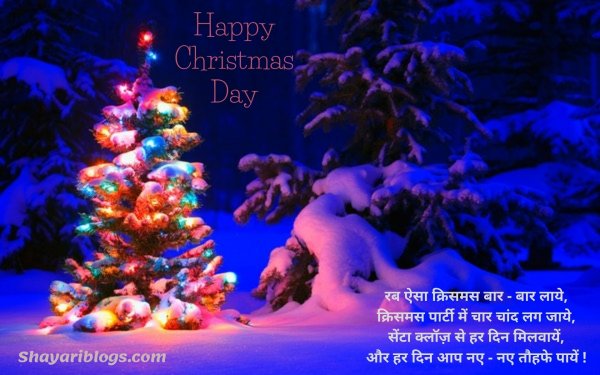 ---
aapakee aankhon mein saje ho jo bhee,
sapane aur dil mein chhapen ho jo bhee abhilaashaaye,
ye krisamas ka parv unhen sach kar jae,
aapake lie hamaaree yahee hain pyaaree see abhilaasha.
आपकी आँखों में सजे हो जो भी,
सपने और दिल में छपें हो जो भी अभिलाषाये,
ये क्रिसमस का पर्व उन्हें सच कर जाए,
आपके लिए हमारी यही हैं प्यारी सी अभिलाषा।
na kaard bhej raha hoon,
na koee phool bhej raha hoon,
sirphasachche dilase main aapako,
krisamas aur nav varsh kee,
shubhakaamanaen bhej raha hoon.
ना कार्ड भेज रहा हूँ,
ना कोई फूल भेज रहा हूँ,
सिर्फ सच्चे दिलसे मैं आपको,
क्रिसमस और नव वर्ष की,
शुभकामनाएं भेज रहा हूँ।
---
Best Wishes For Merry Christmas In Hindi
aaya saantaaaya leke khushiya hajaar,
bachcho ke lie gift aur dher saara pyaar,
ho jaaye khushiyon kee aap sab par bahaar,
mubaarak ho aapako chhristmas ka tyauhaar. 2
आया सांताआया लेके खुशिया हजार,
बच्चो के लिए Gift और ढेर सारा Pyaar,
हो जाये खुशियों की आप सब पर बहार,
मुबारक हो आपको Christmas का त्यौहार।
aaya hai eks ka tyauhaar,
chalo jashn manaate hain,
de do tum dher saaree jeet,
khatm karo aaj saara yuddh.
आया है क्रिसमस का त्यौहार,
चलो मनायें जमकर इसबार,
देते हैं आपको ढेर सारी बधाई,
खत्म करो आज सारी लड़ाई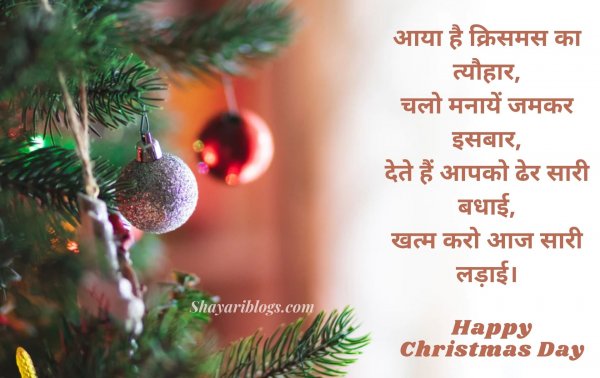 ---
jo log good morning ko "G.M"
good night ko "G.N" likhate hain,
Merry Christmas ko "MC" mat likh dena,
varana bavaal ho jaega bavaal.
जो लोग गुड मॉर्निंग को "G.M"
गुड नाइट को "G.N" लिखते हैं,
Merry Christmas को "MC" मत लिख देना,
वरना बवाल हो जाएगा बवाल।
christmas day par shayari hindi
devadoot banake koee aaega,
saaree aashaen tumhaaree pooree karake jaega,
christmas ke is shubh din par,
tohaphe khushiyon ke de jaega !!
देवदूत बनके कोई आएगा,
सारी आशाएं तुम्हारी पूरी करके जाएगा,
Christmas के इस शुभ दिन पर,
तोहफे खुशियों के दे जाएगा !!
---
sabake dilo mein ho sabake lie pyaar,
aane vaala har din laaye khushiyon ka tyauhaar,
is ummeed ke saath aao bhoolake sare gam,
krisamas mein ham sab kare vel – kam !
सबके दिलो में हो सबके लिए प्यार,
आने वाला हर दिन लाये खुशियों का त्यौहार,
इस उम्मीद के साथ आओ भूलके सरे गम,
क्रिसमस में हम सब करे वेल – कम !
---
christmas day 2 line shayari
krisamas mein hai aayee khushiyon kee bahaar,
aao saanta ke saath mil kar sab manaaye yah tyauhaar.
क्रिसमस में है आयी खुशियों की बहार,
आओ सांता के साथ मिल कर सब मनाये यह त्यौहार।
---
is baar krisamas sab kee dushmanee
mitaaye aur apanee ko milae.
इस बार क्रिसमस सब की दुश्मनी
मिटाये और अपनी को को मिलाए।
bade din hai baat badee
krisamas se bandhee hai khushiyon kee ladee.
बड़े दिन है बात बड़ी, 
क्रिसमस से बंधी है खुशियों की लड़ी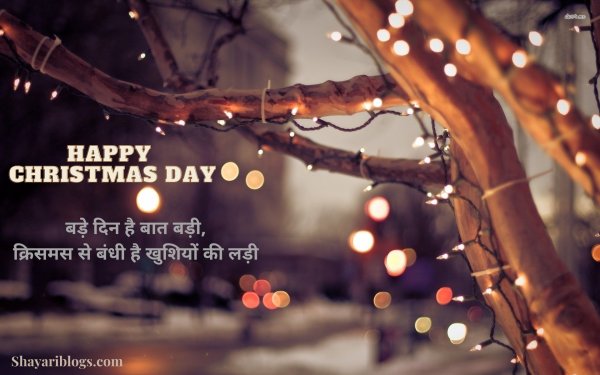 ---
2 line christmas day shayari 2022
krisamas pyaara tyauhaar,
jeevan mein laaye khushiyaan apaar.
क्रिसमस प्यारा त्यौहार,
जीवन में लाये खुशियाँ अपार।
yeeshu kee ye yaad ka din hai,
bachchon ka ye pyaar ka din hai.
यीशु की ये याद का दिन है,
बच्चों का ये प्यार का दिन है।
---
sabase pyaaree khushiyaan aapake hisse mein aae
dua hai. senta aapako khoob saaree tophee de.
सबसे प्यारी खुशियां आपके हिस्से में आए
दुआ है सेंटा आपको खूब सारी टॉफी दे।
christmas day 2 line shayari
krisamas kee khushiyaan kuchh yoon bhee manaana,
kisee gareeb ke lie kuchh gipht jaroor de jaana.
क्रिसमस की खुशियां कुछ यूं भी मनाना,
किसी गरीब के लिए कुछ गिफ्ट जरूर दे जाना।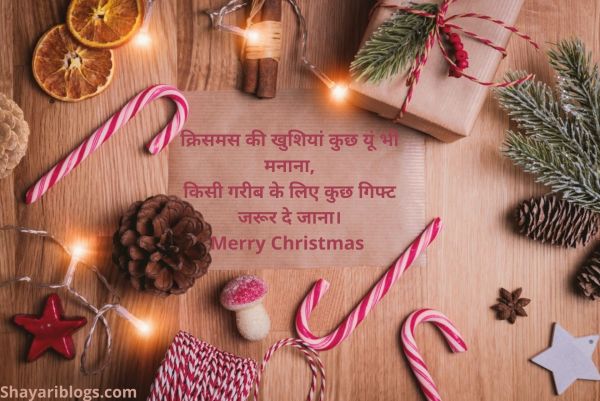 ---
aaj ke din khoob chokalet, keks aur kaindee khao,
haste gaate saanta ke saang krisamas ko manao.
आज के दिन खूब चॉकलेट, केक्स और कैंडी खाओ,
हस्ते गाते सांता के सांग क्रिसमस को मनाओ।
krisamas ke shubh avasar par aapako aur
aapake parivaar ko hamaaree or se haardik shubhakaamanaen.
क्रिसमस के शुभ अवसर पर आपको और
आपके परिवार को हमारी ओर से हार्दिक शुभकामनाएं।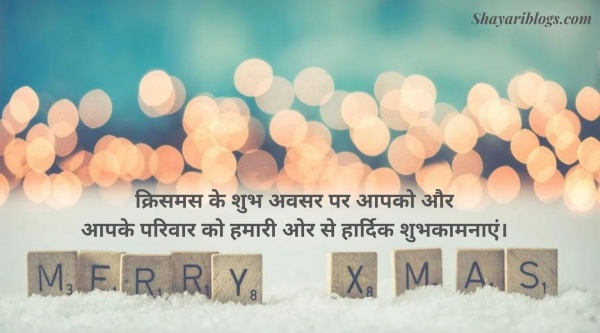 ---
jingal bels jingal bels jingals aal da ve,
saanta ko bolo kuchh gipht de jao hamen he !
जिंगल बेल्स जिंगल बेल्स जिंगल्स आल द वे,
सांता को बोलो कुछ गिफ्ट दे जाओ हमें हे !
---
Merry Christmas Day Wishes In English
May your heart and home be
filled with all of the joys the
season brings. Merry Christmas
and a wonderful New Year !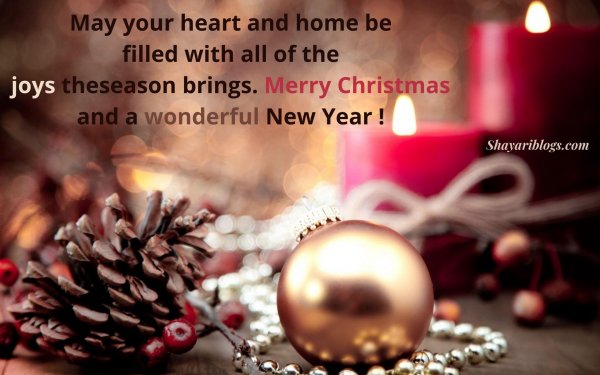 Wishing that this Christmas
cause you to sparkle with
moments of love, laughter,
and good will, and your new year
be filled with meaning and joy.
Merry Christmas.
May the Fragrance of Joy,
Blossoms of Hope and
Glow of Peace always be with you !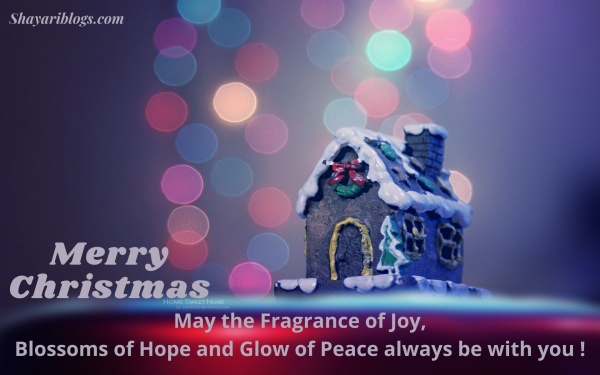 Happy Merry Christmas Day Quotes
May you be happy and blessed,
Not just on Christmas day,
but throughout the year!
Merry Christmas and Happy New Year!
on this Christmas I wish
that happiness and joy
fills your home and life
may you have a wonderful Xmas.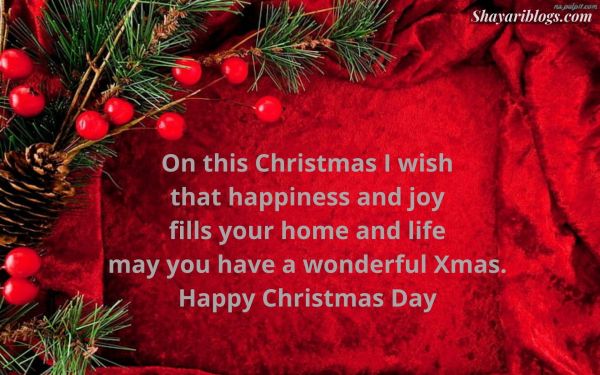 Nights got Cheerful and silvery snow
Your days become bright and full of glow
Burn your all problems and fear
Wish you a MERRY CHRISTMAS and happy new year.
May your lives be filled with love
and happiness, and your year be
full of positive energy and good vibes.
Wishing You A Blessed christmas
This Christmas wish is sent to you,
full of love, kisses and happiness,
so that all your dreams may come true.
May your Christmas be filled
with sharing, loving, and thanking
God for all his blessings.
May this times and treasures of the
present become the golden memories of tomorrow.
---
Humne aapke liye kuchh Christmas day video bhi add ki hai jinhen aap free mein download karke apne WhatsApp status par bhi laga sakte hain.


---
To fir kaisa laga aapko hamara yaha Merry Christmas Day shayari collection.
Hamen comment box mein jarur bataen aur aap hamari in sabhi shayariyan ko apne sabhi doston rishtedaron ke sath jarur share karen.
Aur unhen Christmas ki dher O badhaiyan de, fir se ek bar aap sabhi ko Happy Christmas Day