Fathers Day Shayari 2021 | पिता दिवस पर कुछ खास शायरी।
Aaj ke special din mein ham aapke liye laye hain best fathers day shayari in hindi father's day ka din sirf or dirf pita ke liye hi samarpit hai.
Yah din ham aapke liye aur bhi jyada khaas banane ja rahe hain hamari shayariyan ke sath, aaj ke din aap je shayari apne pita ji ko jarur sunayen.
Father's Day Shayari 2021
Ek pita ki bhumika life mein bahut hi mahatvpurn hoti hai unki vajah se ham aaj is mukam per hain unhin ki dekhrekh mein ham itne saksham hai.
Pita ji apne aap se pahle apne bacchon aur apne Parivar ke bare mein sochte hain vah apna Farz nibhaane mein kabhi bhi piche nahin hatte hain.
Apne parivar ki sari jimmedari sar par utha kar chalta hai ek pita, isiliye yah khas din apne pita ji ke liye hai.
Chaliye to ham is happy father day per apne pita ji ke liye kuchh best father day shayari padh ke sunate hain.
Father's Day Shayari
na raat dikhaee detee hai,
na din dikhaee dete hain,
pita ko bas parivaar ke,
haalaat dikhaee dete hain.
ना रात दिखाई देती है,
ना दिन दिखाई देते हैं,
पिता को बस परिवार के,
हालात दिखाई देते हैं।
---
duniya kee bheed mein,
sabase kareeb jo hai,
mere papa mere khuda,
meree takadeer vo hai .
दुनिया की भीड़ में,
सबसे करीब जो है,
मेरे पापा मेरे खुदा,
मेरी तकदीर वो है।
pyaare papa ke pyaar bhare,
seene se jo lag jaate hai,
sach kahatee hoon vishvaas karo,
jeevan mein sada sukh paate hai.
प्यारे पापा के प्यार भरे,
सीने से जो लग जाते है,
सच कहती हूँ विश्वास करो,
जीवन में सदा सुख पाते है।
---
hindi fathers day shayari
neend apanee bhula ke sulaaya hamako,
aansoo apane gira ke hansaaya hamako,
lie god mein jhulaaya hamako,
jeevan kee har khushee se milaaya hamako.
नींद अपनी भुला के सुलाया हमको,
आंसू अपने गिरा के हंसाया हमको,
लिए गोद में झुलाया हमको,
जीवन की हर खुशी से मिलाया हमको।
naseeb vaale hain jinake sar par,
pita ka haath hota hain,
zid pooree ho jaatee hain sab Agar,
Pita ka saath hota hai.
नसीब वाले हैं जिनके सर पर,
पिता का हाथ होता हैं,
ज़िद पूरी हो जाती हैं सब अगर,
पिता का साथ होता है।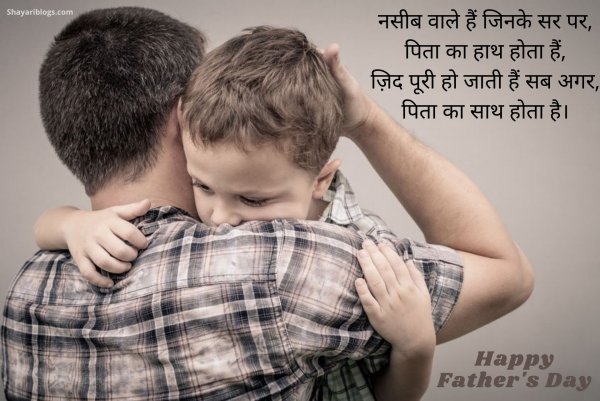 ---
vo jamee mera vo hee aasamaan hai,
vo khuda mera vo hee bhagavaan hai,
kyon main jaoon use kaheen chhed ke,
papa ke kadamon mein saara jahaan hai.
वो जमी मेरा वो ही आसमान है,
वो खुदा मेरा वो ही भगवान है,
क्यों मैं जाऊं उसे कहीं छेड के,
पापा के कदमों में सारा जहान है।
fathers day shayari 2021
meree rab se ek gujaarish hai,
chhotee see lagaanee ek siphaarish hai,
rahe jeevan bhar khush mere papa,
bas itanee see meree khvaahish hai.
मेरी रब से एक गुजारिश है,
छोटी सी लगानी एक सिफारिश है,
रहे जीवन भर खुश मेरे पापा,
बस इतनी सी मेरी ख्वाहिश है।
---
mein sabase achchha hoon,
kitana bhee ho jaoo bada,
papa ka to pyaara bachcha hoon.
में सबसे अच्छा हूँ,
कितना भी हो जाऊ बडा,
पापा का तो प्यारा बच्चा हूँ।
meree duniya mein itanee jo shauharat hai,
mere papa kee badaulat hai .
मेरी दुनिया में इतनी जो शौहरत है,
मेरे पापा की बदौलत है।
---
pita divash par best shayari
pita jameer hai, pita jaageer hai,
jisake paas ye hai,
vah sabase ameer hai.
पिता जमीर है पिता जागीर है,
जिसके पास ये है,
वह सबसे अमीर है।
---
Humne aapke liye kuchh video bhi add ki hai jinhen aap free mein download karke apne WhatsApp status par bhi laga sakte hain.


Pages: 

1

 2