Fathers Day Shayari 2021 | पिता दिवस पर कुछ खास शायरी।
happy fathers day shayari in hindi
mere pyaare pyaare papa,
mere dil mein rahate papa,
meree chhotee see khushee ke lie,
sab kuchh sah jaate hain papa.
मेरे प्यारे प्यारे पापा,
मेरे दिल में रहते पापा,
मेरी छोटी सी खुशी के लिए,
सब कुछ सह जाते हैं पापा।
---
paapa hai mohabbat ka naam,
paapa ko hajaaron salaam,
kar de phida jindagee,
aaye jo bachchon ke kaam.
पापा है मोहब्बत का नाम,
पापा को हजारों सलाम,
कर दे फिदा जिन्दगी,
आये जो बच्चों के काम।
fathers day quotes in hindi
bematalab see is duniya,
mein vo hee hamaaree shaan hai,
kisee shakhs ke vajood kee,
pita hee pahalee pahachaan hai.
बेमतलब सी इस दुनिया में,
वो ही हमारी शान है,
किसी शख्स के वजूद की,
' पिता ' ही पहली पहचान है।
---
jo bhale na bhala sake pyaar,
vo hai mere pyaare papa ka pyaar,
dil mein jinake mein hu,
vo hai mera saara sansaare .
जो भले न भला सके प्यार,
वो है मेरे प्यारे पापा का प्यार,
दिल में जिनके में हूं,
वो है मेरा सारा संसारे।
bin bataaye vo,
har baat jaan jaate hai,
mere papa meree,
har baat maan jaate hai ,
बिन बताये वो,
हर बात जान जाते है,
मेरे पापा मेरी,
हर बात मान जाते है।
---
happy fathers day shayari
pyaare paapa sachche papa,
bachcho ke sang bachche papa,
karate hai pooree har ichchha,
mere sabase achchhe papa.
प्यारे पापा सच्चे पापा,
बच्चो के संग बच्चे पापा,
करते है पूरी हर इच्छा,
मेरे सबसे अच्छे पापा।
ghar mein sab apana pyaar dikhaate hain,
par koee bina dakhaen,
piyar kiye jaarahe tha..
vo the papa.
घर में सब अपना प्यार दिखाते हैं,
पर कोई बिना दखाएं,
पियर किये जा रहा था..
वो थे पापा।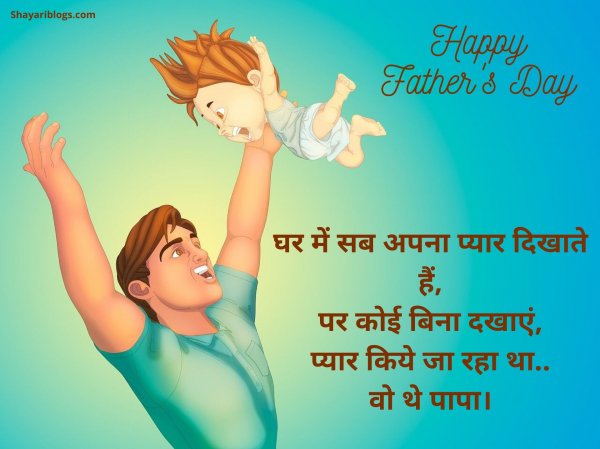 ---
bhula ke need apanee sulaaya hamako,
dard kabhee na dena un hastee ko,
khuda ne pita banaaya jinako.
भुला के नीद अपनी सुलाया हमको,
दर्द कभी न देना उन हस्ती को,
खुदा ने पिता बनाया जिनको ।
fathers day special shayari
apanee jubaan kee tejee,
us maan baap par mat chalao,
jisane kabhee tumhen,
bolana sikhaaya tha.
अपनी जुबान की तेजी,
उस मां बाप पर मत चलाना,
जिसने कभी तुम्हें,
बोलना सिखाया था।
---
khushee ka har lamha paas hota hai,
jab pita saath hota hai.
खुशी का हर लम्हा पास होता है,
जब पिता साथ होता है।
---
Hello doston, hame Puri ummid hai ki aap ko hamari yah Happy fathers Day shayari bahut hi pasand aayi hogi,
Agar aapko hamari yah shayari pasand aayi hai to apne pita ji ke sath jarur share karen.
Aur comment box mein hamen bataen ki aapko yah shayari kaisi lagi.
Pages: 

1

 2