hurt shayari | new collection on hurt shayari | shayari on hurt
Aaj ham aapke liye hurt shayari laye hain, in shayariyan ka use aap jab karen tab koi aapko hurt kar de aur aap usko batana chahte hain ki uski baton se aap ktna hurt hue hain.
Hurt ka matlab chot hota hai aapke partner ki kisi bhi baat se aapke dil per lagi hui choot jo ki aap ko hurt kar gai ho.
Hurt Shayari in hindi
Kabhi-kabhi koi Insan aapko angane mein bhi hurt kar deta hai usko pata bhi nahin hota, vah kuchh aisi baten bol deta hai ki jo aapke dil per lag jaati hai.
Humne aapke samne sabhi aisi shayariyan rakhne ki puri koshish ki hai jo ki aapki feelings ko acche se bata sake.
Koi bhi rishta ho vah donon taraf se nibhaya jata hai agar ek ruth jaaye to ek ko manana bhi aana chahie.
To fir shuruaat karte hain ham apni hurt shayari in hindi jo ki aapko jarur pasand aaegi.
Hurt Shayari
galatee se bhee kabhee,
ye bhool mat karana,
bahut jaldee kisee ko,
kubool mat karanahamen dekh kar jab usane,.
गलती से भी कभी,
ये भूल मत करना,
बहुत जल्दी किसी को,
कुबूल मत करना।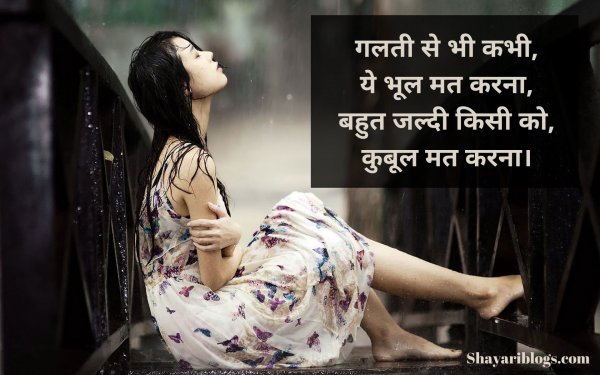 ---
hame dekh kar jab usne,
munh mod liya,
ek tasallee ho gayee,
chalo pahachaanate to hain.
हमें देख कर जब उसने,
मुंह मोड़ लिया,
एक तसल्ली हो गयी,
चलो पहचानते तो हैं।
apane vo nahee hote,
jo tasveer mein saath khade hote hain,
apane vo hain jo,
takaleeph mein saath khade hote hain
अपने वो नही होते,
जो तस्वीर में साथ खड़े होते हैं,
अपने वो हैं जो,
तकलीफ में साथ खड़े होते हैं।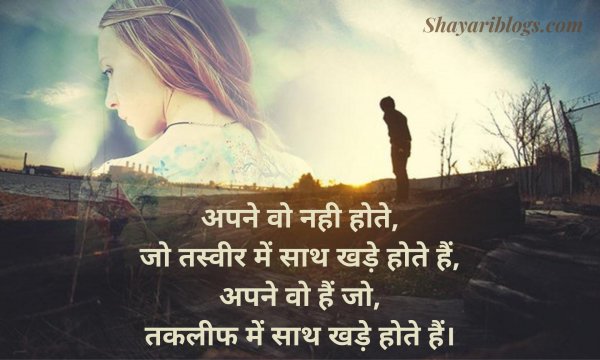 ---
hurt touching shayari
kuchh karana ho to akele karane ka,
hunar rakhana apane andar,
sahaare kitane hee sachche ho,
aur aapako chaahe kitana hee bharosa ho,
vo kabhee saath nahin denge.
कुछ करना हो तो अकेले करने का,
हुनर रखना अपने अंदर,
सहारे कितने ही सच्चे हो,
और आपको चाहे कितना ही भरोसा हो,
वो कभी साथ नहीं देंगे।
kismat aur dil kee aapas mein,
kabhee nahee banatee kyonki,
jo dil mein hota hai,
vo kabhee kismat mein nahee hota hai.
किस्मत और दिल की आपस में,
कभी नही बनती क्योंकि,
जो दिल में होता है,
वो कभी किस्मत में नही होता है।
---
kisee kee majabooree ka majaak,
na banao yaaron,
zindagee kabhee mauka detee hai,
to kabhee dhokha bhee detee hai.
किसी की मजबूरी का मजाक,
ना बनाओ यारों,
ज़िन्दगी कभी मौका देती है,
तो कभी धोखा भी देती है।
heart broken shayari
milata to bahut kuchh hai is zindagee mein,
bas ham ginatee usee kee karate hai,
jo haasil na ho saka.
मिलता तो बहुत कुछ है इस ज़िन्दगी में,
बस हम गिनती उसी की करते है,
जो हासिल ना हो सका।
---
bahut thak sa gaya hu,
khud ko saabit karate karate,
mere tareekegalat ho sakate hai,
magar meree mohabbat nahin.
बहुत थक सा गया हुँ,
खुद को साबित करते करते,
मेरे तरीकेगलत हो सकते है,
मगर मेरी मोहब्बत नहीं।
2 line hurt shayari
dushman ke sitam ka khauph nahin hamako,
ham to doston ke rooth jaane se darate hain.
दुश्मन के सितम का खौफ नहीं हमको,
हम तो दोस्तों के रूठ जाने से डरते हैं।
---
jab aap kee koee kadar na karen to,
jindagee se usake door chale jaana hee behatar hain .
जब आप की कोई कदर ना करें तो,
जिंदगी से उसके दूर चले जाना ही बेहतर हैं।
bas tumhen paane kee tamanna nahin rahee l,
mohabbat to aaj bhee tumase beshumaar karate hain.
बस तुम्हें पाने की तमन्ना नहीं रही,
मोहब्बत तो आज भी तुमसे बेशुमार करते हैं।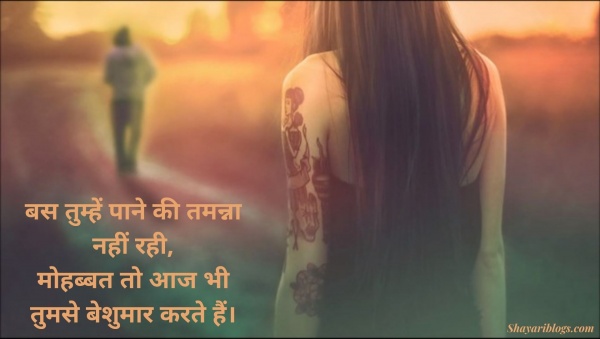 ---
sad hurt shayari in hindi
afasos sirph is baat ka hai,
usako meree kamee ka koee gam nahin।
अफ़सोस सिर्फ इस बात का है,
उसको मेरी कमी का कोई गम नहीं।
---
Humne aapke liye kuchh Hurt shayar videos bhi add ki hai jinhen aap free mein download karke apne WhatsApp status par bhi laga sakte hain.


Pages: 1 2