Happy Teachers Day Shayari 2021 | शिक्षक दिवस पर शायरियों का संग्रह।
Aaj ham aapke liye le hain Happy Teachers day shayari jisse aap apne teacher's ko wish kar sakte hain, aaj ka din har teacher's ke liye bahut hi khaas hai and aap ki je pyari wishes se aur bhi khas ban jaega.
Hamare jeevan mein shiksha ki pahli shuruaat hamari maa ke dwara sikhai hui bhasha se hoti hai.
Happy Teachers day shayari
Maa ke bad fir jo hamare jivan ka margdarshan karte hai vah hote hain hamare teacher's vah hamen jivan mein sahi galat ka matlab samjhe hain.
Shikshak Divas ko Dr. Sarvepalli Radhakrishnan ki jayanti ke roop mein manaya jata hai and shikshakon ka samman karne ke liye bharat mein har sal 5 September ko Teachers Day manaya jata hai.
Hamari shayari aapke teacher's day ko aur bhi jyada special karne ja rahi hain,
Chaliye to padhte hain Shayari on Teachers Day ke upar kuchh behtarin shayariyan.
Teachers day shayari 2021
shikshak divas saal mein aata,
shikshak ka sammaan dikhata,
paanch sitambar sabako bhaata,
jeevan ko nav disha dikhata.
शिक्षक दिवस साल में आता,
शिक्षक का सम्मान दिखता,
पांच सितम्बर सबको भाता,
जीवन को नव दिशा दिखता।
---
jal jaata hai vo die kee tarah,
kaee jeevan roshan kar jaata hai,
kuchh isee tarah se har guru,
apana pharj nibhaata hai.
जल जाता है वो दिए की तरह,
कई जीवन रोशन कर जाता है,
कुछ इसी तरह से हर गुरु,
अपना फर्ज निभाता है।
guru tere upakaar ka,
kaise chukaoon main mol,
laakh keematee dhan bhala,
guru hain mere anamol.
गुरु तेरे उपकार का,
कैसे चुकाऊं मैं मोल,
लाख कीमती धन भला,
गुरु हैं मेरे अनमोल।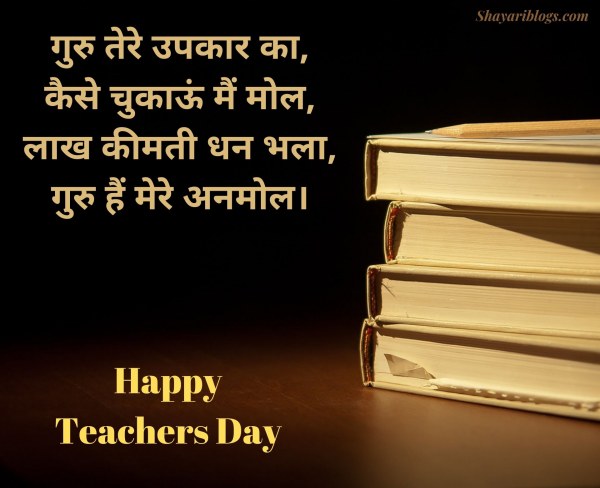 ---
best teachers day shayari
aapane banaaya hai mujhe is yogy,
kee praapt karoo main apana lakshy,
diya hai har samay aapane sahaas,
jab bhee laga mujhe kee mein haara .
आपने बनाया है मुझे इस योग्य,
की प्राप्त करू मैं अपना लक्ष्य,
दिया है हर समय आपने सहास,
जब भी लगा मुझे की में हारा।
koee saphalata kahata hai,
koee manjil samajhata hai,
magar chhaatron kee kamajoree ko,
sirph shikshak samajhata hai.
कोई सफलता कहता है,
कोई मंजिल समझता है,
मगर छात्रों की कमजोरी को,
सिर्फ शिक्षक समझता है।
---
dete hai shiksha shikshak hamaare,
naman charanon mein guru tumhaare,
bina shiksha soona jeevan hai,
shikshit jeevan sada navajeevan hai.
देते है शिक्षा शिक्षक हमारे,
नमन चरणों में गुरु तुम्हारे,
बिना शिक्षा सूना जीवन है,
शिक्षित जीवन सदा नवजीवन है।
Happy Teachers Day Wishes
shikshak ke bin ye duniya kya,
kuchh bhee nahee bas andhakaar yahaan,
shat – shat naman un shikshako ko,
jinake kaaran roshan hain saara jahaan.
शिक्षक के बिन ये दुनिया क्या,
कुछ भी नही बस अंधकार यहाँ,
शत – शत नमन उन शिक्षको को,
जिनके कारण रोशन हैं सारा जहाँ।
---
roshanee banakar aae jo hamaaree jindagee mein,
aise gurooon ko main pranaam karata hoon,
jameen se asmaan tak pahunchaane ka rakhate hain jo hunar,
aise Teacher's ko main dil se salaam karata hoon.
रोशनी बनकर आए जो हमारी जिंदगी में,
ऐसे गुरूओं को मैं प्रणाम करता हूं,
जमीन से अस्मान तक पहुंचाने का रखते हैं जो हुनर,
ऐसे Teacher's को मैं दिल से सलाम करता हूं।
Teachers Day Status In Hindi
akshar- akshar hamen sikhaate hain,
jeevan kya hai samajhaate hain,
vahee to hamaare sachche guroo kahalaate hai.
अक्षर- अक्षर हमें सिखाते हैं,
जीवन क्या है समझाते हैं,
वही तो हमारे सच्चे गुरू कहलाते है।
---
gurujanon ke lie kya likhoo,
aaj ye sab jo likh rahe hain,
ye raab unheen kee den hai.
गुरुजनों के लिए क्या लिखू,
आज ये सब जो लिख रहे हैं,
ये राब उन्हीं की देन है।
2 lines for teacher in hindi
maa – baap kee moorat hai guru,
is kalayug mein bhagavaan kee soorat hai guru.
माँ – बाप की मूरत है गरु,
इस कलयुग में भगवान की सूरत है गुरु।
---
sirph kitaabee gyaan hee nahin,
jeevan jeena bhee sikhaate hain aap.
सिर्फ किताबी ज्ञान ही नहीं,
जीवन जीना भी सिखाते हैं आप।
---
Humne aapke liye kuchh Teacher Day video bhi add ki hai jinhen aap free mein download karke apne WhatsApp status par bhi laga sakte hain.


Pages: 1 2