Sad shayari in hindi | Best new Sad shayri collection
Hello doston Ham aapke liye aajkal aaye Hain best sad shayari in Hindi sad shayari se aap apne gamon Ko darshan sakte hain.
Hamara Sad hone ka sabse bada karan je bhi hai ki, ham jis se apna samajhte hain usse kuchh jyada hi ummid lagane lag jaate hain.
Sad shayari in hindi
life mein sadness kis nahin hoti hai, jab Koi hamari feelings ke sath khelta hai To hamen bahut hurd feel hota hai.
Bus Asi feeling ko app hamari shayari ke jarie darsha sakte hain, humne aapke liye new sad shayari in hindi ka best collection collect kiya hai.
Ham padhte hain hamari sad shayari or Agar hamari koi bhi shayari aap ka Dil chhu sake to please ek comment jarur kariyega.
Sad shayari in hindi
tamaam umr jindagee se door rahe,
teree khushee ke lie tujhase door rahe,
ab is se badhakar vafa kee saza kya hogee,
ki tere hokar bhee tujhase door rahe.
तमाम उम्र जिंदगी से दूर रहे,
तेरी ख़ुशी के लिए तुझसे दूर रहे,
अब इस से बढ़कर वफ़ा की सज़ा क्या होगी,
कि तेरे होकर भी तुझसे दूर रहे।
---
khatm nahin hua ham donon,
ka rishta kabhee, bas vo alag baat hai,
ki usane kaheen aur dil laga liya.
खत्म नहीं हुआ हम दोनों,
का रिश्ता कभी, बस वो अलग बात है
कि उसने कहीं और दिल लगा लिया।
sad shayari on girl
hamen to kuchh mila hee nahin,
phir bhee aapase koee gila nahin,
kuchh samay aapako chaah liya,
aur khvaabon mein hee apana bana liya.
हमें तो कुछ मिला ही नहीं,
फिर भी आपसे कोई गिला नहीं,
कुछ समय आपको चाह लिया,
और ख्वाबों में ही अपना बना लिया।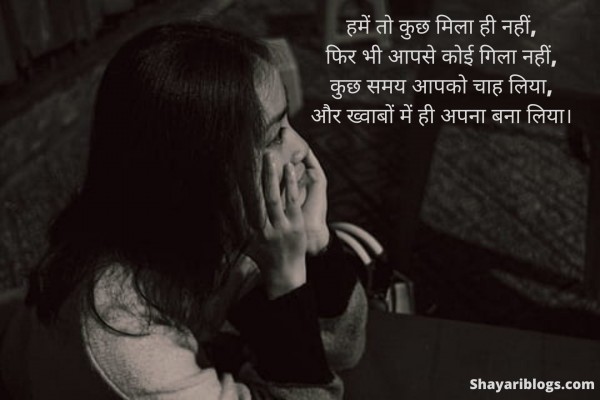 ---
jisako aaj mujhame hajaaro,
galatiya rajar aatee hain,
kabhee usee ne kaha tha,
tum jaise bhee ho mere ho
जिसको आज मुझमे हजारो,
गलतिया रजर आती हैं,
कभी उसी ने कहा था,
तुम जैसे भी हो मेरे हो।
hindi sad shayari
mohabbat kisee se karanee ho,
to had mein rahakar karana,
varana kisee ko bepanaah chaahoge,
to tootakar bikhar jaoge.
मोहब्बत किसी से करनी हो,
तो हद में रहकर करना,
वरना किसी को बेपनाह चाहोगे,
तो टूटकर बिखर जाओगे।
---
pata nahin use ye,
samajh kyon nahin aata ki,
mera dil nahin lagata usase,
baat kiye bina.
पता नहीं उसे ये समझ,
क्यों नहीं आता कि,
मेरा दिल नहीं लगता उससे,
बात किये बिना।
muskan sad shayari
jise samajhate the zindagee,
meree dhadakanon ka phareb tha,
mujhe muskuraana sikha ke,
vo meree rooh tak rula gae.
जिसे समझते थे ज़िन्दगी,
मेरी धड़कनों का फरेब था,
मुझे मुस्कुराना सिखा के,
वो मेरी रूह तक रुला गए।
---
dil to hamaara vo aaj bhee bahala dete hai.
phark hai to sirph itana pahale hansa dete the,
ab rula dete hain..
दिल तो हमारा वो आज भी बहला देते है,
फर्क है तो सिर्फ इतना पहले हँसा देते थे,
अब रुला देते हैं
Sad lovely sms
main logon kee baaton ko,
jara bhar bhee nahin sunata,
mera dil ab bhee kahata hay,
use mujhase mohabbat hai.
मैं लोगों की बातों को,
जरा भर भी नहीं सुनता,
मेरा दिल अब भी कहता है,
उसे मुझसे मोहब्बत है।
---
Kabhi Kisi Se tni Umeed Na Rakhna,
Ki Umeed Ke Sath-Sath Khud Bhi Toot Jao.
कभी किसी से तनि उम्मीद न रखने,
की उम्मीद के साथ- साथ खुद भी टूट जाओ।
Pages: 

1

 2